Etihad Airways - New York to Abu Dhabi (March 2014)
comment below and let me know your thoughts :)
Etihad Airways is one of the big three Middle Eastern airlines (along with Qatar and Emirates) yet it has not expanded in the same manner as the other two. Instead of adding routes and airplanes, Etihad has decided to buy stakes in other airlines and use the other airlines planes, routes, and services to increase their own service. These airlines are termed 'equity partners' and right now Etihad has 6 - Aer Lingus, Virgin Australia, Jet Airways, air berlin, air serbia, and air seychelles (alitalia will be its 7th).
Etihad originally had one daily flight from JFK - it left late in the evening - but wanted to expand that and did so through their 'equity partner' Jet Airways. Through this partnership, Etihad started a second daily JFK to AUH flight which leaves JFK at 12:30pm and arrives into AUH at 9:20am (12hrs 45min flight time). The flight is operated is by Etihad using Jet Airways aircraft (that is what they say).
I recently flew from New York (JFK) to Abu Dhabi (AUH) with an Etihad equity partner - and the overall view is if Etihad has these types of 'partners/friends' then maybe I will just stay away.
I was connecting in JFK to Etihad so I did not have go through the check-in procedures, I just needed to collect my boarding pass and pass through security to my gate. When we arrived at the gate, the plane was already there and even though it says 'Jet Airways', underneath the pilot's window it states 'operated by Etihad Airlines. The partnership extended to the crew - as half of the crew were wearing Etihad uniforms while the other half were wearing Jet Airways uniforms.
We were on EY 102 which departs JFK at 12:30pm. Apparently we were not a very full flight because they were not that many people at the boarding gate, and boarding commenced around 11:45am.
Note: As we were boarding the plane, an Etihad crew person pulled me out
of line and told me that our hand baggage was too big and either we needed to check it in or remove items.
The cost to check in the bag, I was told, was $175 for a 7kg bag.
I explained to the staff that the bag was well within the weight and that it had fit on an Embraer and other flights and it will fit, and they can come with me on board to see.
If it did not fit without any fuss, we could discuss it then. I was told 'no that is not going to happen and unless you pay the $175 and check it in you will not board and you will miss your flight'. It sounded like an extortion or threat of money - that if I wanted to make my flight I would have to pay money.
When everyone had boarded and they were about to close the flight, that is when we were allowed to board with our luggage – with a parting note saying 'we are going to let you go this time, but in the future that will not happen' (another very rude comment).
While on board, our hand luggage fit in the overhead compartment without any issues and closed without any fuss. When we deplaned, there were many people who had bigger and heavier bags than I did
As we were boarded the plane, there were more signs that we boarded a Jet Airways vs an Etihad plane. The look of the seats, the comfort (or lack there of), and the red color all brightly indicated we were not on an Etihad plane. The only Etihad-part of the plane were the pillows and blanket on each seat (a nice touch) and the entertainment system (which I will get to in a bit). As I had suspected earlier, the plane was only 40% full (I was told by a FA that 2 weeks prior both sectors were full but in the last 2 weeks the JFK to AUH sector had been running about this load). Etihad using a Boeing 777-300ER in a 3-4-3 configuration which makes the plane seem very cramped and tight. As the plane was virtually empty, almost everyone could move to an empty row so I moved to an empty 4-seat row which were right next to the first set of economy toilets.
Note: A
fter 30 minutes after take-off –with only 5 people using the restroom – the restroom became inoperable. We informed the crew that something was wrong with the restroom and got a nod in response. Some FA's went to investigate but did not make a mention nor put out a sign, which meant people still believed the bathroom was operational. It was up to passengers like myself and others to warn other fellow passengers that this washroom was inoperable and to find another. The bathroom situation became worse as the soap ran out in 3 of the other bathrooms
. When this was mentioned to the crew, the response was 'yes…go to another one' and that was it. No apologies and not trying to resolve the situation – which is critical considering how many germs are on planes and thus hand washing is important to minimize sickness and the spreading of germs.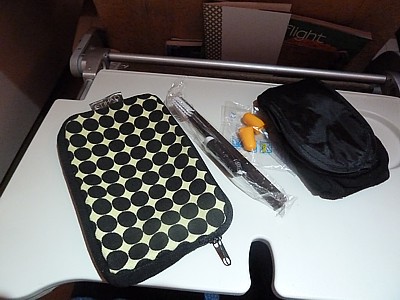 The crew did come by occasionally to check on passengers, but I have been on other long-haul flights and the crew on other airlines came by more frequently (Qantas staff does a good job of this, as well as Emirates). The crew did leave out water and drinks to have in the galley but that was about it.
As we took off, the crew started their service which included handing out headsets, amenity kits, and menus. The crew first started with a drink service and then commenced serving lunch. Etihad's food leaves a lot to be desired. On this flight, there was a choice of Western or Indian (South Indian) options --- both of which looked unappetizing. (I took many Etihad flights and none of the food on any of the flights was good or edible -- they ranged from passable to plain not worth it!). After the food, coffee and tea were served -- on certain flights, Etihad has hot chocolate listed on the menu so I asked for it many times but almost never got it (75% failure rate in terms of hot chocolate delivery). When it does come, it is good though (and a nice touch!)
After the meal service, they dimmed the lights to relax and enjoy the entertainment system. Since I had 4 seats, I was able to stretch out comfortably and browse through
the entertainment system. Unlike other airlines (ex. Emirates and Oman Air), Etihad does not turn on their entertainment system until after the initial climb after take-off and turns it off as soon as they start their initial decent (if you are on a short flight - leave little time to enjoy the system). Overall, the entertainment system is alright. There are some selections of new and old movies but its definitely not a good system. There isn't enough entertainment to keep you entertained for almost 13 hours (especially if, like me, you do not sleep on planes). They have television programs as well, but only one or two episodes vs many episodes or entire seasons other airlines have.
in-screen entertainment
About 3 hours into our decent, the lights came on and breakfast was served. Again, the choice was either Western (egg) or Indian (South Indian) and neither were very good. The croissant that was given with the egg was cold. After the meal and coffee were served and trays cleared, the cabin was prepped for landing and this is when Etihad turned off their entertainment system.
Note: As we were descending into Abu Dhabi, we encountered a very violent and dusty sand storm which basically was pushing our airplane from side to side and we dropped altitude a couple of times - never a warning or communication from the cockpit. Thankfully we landed safely
We actually landed early, around 8:30am instead of the scheduled 9:20am. The taxi to the gate took a while, but clearing immigration was quick (most passengers were transferring to other flight) and our luggage came relatively quickly as well.
Note: On
Etihad.com, for those passengers travelling to the U.S. can pay $50 for an increase from 50 to 70lbs (from 23kg to 32kg). I wanted to avail myself of this option so I called the number while I was in Abu Dhabi. When I called and explained what I wanted to do, they had no idea what I was talking about. I explained I found the information from their website but they still had no idea what I was talking about. They said I should go to a in-store travel center and they could better assist me. I went to two Etihad centers in two different Abu Dhabi malls and neither had a clue as to what I was talking about. Both of them said 'we do not know, call the number and they will help you'. Each was trying to pass me off to the other. Finally, I went to the Etihad Travel Center in Dubai and sat there for 1 hour waiting for someone (as everyone was on their break!) and then the next 1 hour showing them where on the Etihad site I found this and finally purchasing the extra luggage (the staff there also had no idea). The entire process was painful and completely ridiculous, as the information was posted and found on Etihad's website yet no staff was aware and no staff seemed like they wanted to help.
I returned on the Jet Airways/Etihad (EY103) operated flight almost 1.5 months after my departure. I checked into Etihad T3 and was told to go through security and proceed to the gate, only to find out that the gate was actually in T1 (and was only told of that by the staff inside T3 and not at the check-in counter). T3 is Etihad's new terminal and is spacious while T1 is the old terminal where most international flights depart from. This terminal is small and extremely crowded and chaotic. The terminal does have free wifi (a plus point) but food options are limited.
The economy cabin - with a view of business class
We waited until our gate was announced and we proceeded to the gate. The scene at the gate was chaotic, claustrophobic, and just plain horrendous. Over 300 people were crammed into a space designed for maybe 100 and people are pushing and shoving and the staff are not doing anything to control the crowd, but rather they are making more announcements to bring more people into the crowded area. It was a complete mess and horror.
Once on-board, this flight seemed a complete Jet Airways flight and not 'an Etihad flight operated by Jet Airways'. The crew were all Jet Airways, all the announcements were made in Hindi like Jet Airways, and everything else resembled Jet Airways – the only thing that seemed like Etihad was the entertainment system. This plane had a 3-3-3 layout which would make the seemed more roomier, but the seats were very cramped (I flew on Ethiopian 3-3-3 layout and their plane seemed more spacious and comfortable).
The service was better on the return with the Jet Airways crew as they were more attentive than the Etihad crew. The flight departed Abu Dhabi at 1:45am and we were served dinner pretty quickly; however,
we were served the EXACT same food from AUH to JFK as we were served a 1.5 months prior from JFK to AUH (and it will still unedible). After the drinks, meal, and coffee service, the lights were turned down so people could rest for the 14hr10min flight. The Jet Airways crew did periodically come by with water and did leave out water and other drinks for people to avail themselves in the galley.
We were scheduled to land at JFK at 7:55am so about 2 hours prior to landing we were given breakfast (again the same breakfast we were given when landing into AUH 1.5 months prior -- and still unedible!). The plane was prepared for landing and we landed at JFK at 7:30am. After a relatively short-taxi (for JFK) we arrived at the gate and deplaned and went to immigration --- NOTE: there is U.S. pre-clearance in Abu Dhabi but that is only available for the 'Etihad' operated flights - EY 101 as it departs in the morning when the pre-clearance is open. Our flight took off at 1am so no pre-clearance for EY103. In spite of not having U.S. pre-clearance, immigration went rather quickly. What took a very long time was the baggage -- we waited almost 1hr15 min for our luggage. For those passengers with tight connections, this meant either running to barely make their connection or missing it entirely!
Jet Airways - operated by Etihad
In the end, it was not a pleasant experience flying with Etihad (we had two other bookings on Etihad for a total of 4 additional flights and each had equally bad service).
Customer service is something that should not be lost while trying to expand an airline, and I believe Etihad is in danger of that – and if it would like to compete with other airlines in the region, then it should really focus on customer service. Other airlines have expanded - either increasing themselves or through partnerships - but have tried to keep their customer service and that's why people choose them again. Etihad has not kept its commitment to customer service, and that is when I recently booked travel I choose a competing Middle Eastern airline which has kept its customer service. Hopefully, the standards of customer service will improve and passengers like myself will not have to avoid flying with Etihad (because while in –flight, we talked to fellow passengers who had similar stories of the lack of customer service!)