Trip Report: Qantas, Brisbane to Los Angeles
comment below and let me know your thoughts :)
antas Airlines is the national carrier of Australia and flies to many major cities within Australia, and connects Australia to many parts of the world - and is now connecting to more of the world with its partnership with Emirates. There is a lot of competition in Australia, as Qantas not only competes with Virgin Australia but also
with many Asia-Pacific airlines for its market. Qantas is a full-service airline, meaning your ticket price includes baggage and meals and IFE; given all this, their prices tend to be a bit higher. They have started a LCC brand called JetStar (on which you can use your Qantas miles, but cannot earn Qantas miles) which flies to many vacation destinations and other locations which may be more budget-friendly.
I have flown Qantas a couple of times, both domestically and internationally. Internationally I have flown from the U.S. - both LAX and DFW - to Brisbane (I had the opportunity to fly on the longest flight in the world - on Qantas from Dallas (DFW) to Sydney via Brisbane). Domestically, I have flown on Qantas from Sydney to Brisbane and on JetStar from Melbourne to Sydney. This experience relays my most recent experience, from Brisbane to LAX in October 2013.
My experience on Qantas was my return flight - I had flown on Qantas from LAX to BNE in August and was now returning home. Work arranged this flight, but when I did arrange my own flight for the holidays, I found that Qantas (in partnership with American) was cheaper in terms of flights from the U.S. as they would have sales from Dallas or LAX (versus Virgin Australia and Delta).
TIP: If you want to use your miles and you are a member of AA miles, you can use those miles for the Qantas flight - they are the same flights and you use less miles.
Overall, Qantas is a nice airline but they are starting to show their age and they need to upgrade in order to keep up with the competition. The perfect example of this is the airplane used from BNE to LAX (which was also used to and from Dallas). Qantas still uses the B747 - which are nice airplanes but are older planes and they show their age in terms of comfort-ability and noise. Qantas have
upgraded the seats and each seat comes with a personal IFE, a USB charger, and a decent legroom, but the B747 cannot compete with the comfort of an A380 or some B777 - especially on the 16hr flight time from DFW to BNE or the 13hr flight time from LAX to BNE. For extra legroom, Qantas has installed Premium Economy which provides additional legroom as well as other benefits. You can also purchase bulkhead seats or exit row seats which also provide additional legroom
The flight from Brisbane departs is scheduled to depart at 10:35am so that means one needs to be at the airport by about 8am to check-in. The flight goes from BNE to LAX and then continues on to JFK (although Qantas cannot sell seats from LAX to JFK so only those who boarded in BNE can continue on). There were lots of check-in counters available so check-in went smoothly - passengers to and from the U.S. are allowed 2 bags of 23kg each but be wary of hand carry because the airport authority are very strict about only 7kg hand baggage allowance!
Seats:
This flight was not very full - in fact we were only 40% occupied - so many people had the entire row to themselves. At the time of booking, if you want to select a seat assignment it is going to cost you. You can select it for free 24-hours prior to your flight when you check-in online, or you can pre-pay to select your seat or pay a little more and select an exit row seat or a bulkhead seat. I am tall and so due to the length of the flight - I paid 25AUD to get a bulkhead seat with extra legroom. The price can range though from 25 to 75AUD (other airlines have also started to charge such as Singapore Airlines).
Boarding
: Because it was a light load, the boarding was quick and efficient and we took off on time (when I flew in July on a full-flight to LAX, we were late boarding by 1.5 hours - with very little explanation by the crew as for the reason for the delay - and then when we got on board we sat at the gate for another 1 hour making us not 2.5 hours behind schedule - essentially making the majority of passengers miss their tight connections!)
On Board
: As you board, on your seat is a pillow (pretty big by airline standards) and a blanket. An amenity kit is passed out which provides socks, eyeshades, and toothbrush/toothpaste. We left at 10:35am so after we reached our cruising altitude, menus were passed out and a lunch service started. Drinks were served prior and during lunch. Tea and coffee were served afterwards, and a special treat, hot chocolate (either mint or regular) with marshmallows were served. This was a special treat as the hot chocolate were served from cadbury pitchers and they were delicious (a nice touch for Qantas).
After the trays were cleared, an overnight packet were served which included a bottle of water, an apple, and a protein bar - this to help keep you refreshed through the long journey. Additionally, in the back of the plane Qantas keeps a stock of fruits - apples mostly - and small snacks such as mini cookies (which were good) and biscuit/crackers. There were also dispensers where you can access water.
After the meal service was completed, the lights were shut off to make the plane dark so that you can get some rest. Even though most passengers were sleeping, flight attendants would pass through the aisles (using mini flashlights to see) to pass out apples, water, mini pizzas, and other light refreshments. As I said, Qantas is a full-service airline and they keep you well-fed.
IFE
: In addition to eating, Qantas has 'Q' - its IFE. In terms of availability, Q is not bad. I expected little more selection from Qantas, especially in terms of movies and tv shows. There were some, but selected episodes - it is definitely not up to par with Emirates selection - but still a decent selection. I would say this is something Qantas needs to improve on, as its competitors (Singapore, Emirates, Malaysia) have better choices.
As the cabin is dark, you can either watch movies or sleep until about 2 hours prior to landing. Since we would land at 6:40am US time, Qantas served us breakfast - either hot or cold. Hot consisted of omelet with potatoes and sausage while cold was cereal and milk. Both were served with fresh fruit (decent), a warm croissant (very tasty), and your choice of beverage - along with tea or coffee. After the meals were done, trays were cleared and preparations were made to land.
My flight was from Brisbane to Los Angeles, and then connecting to Washington Dulles.
QF15 goes from BNE to LAX and lands at 6:40am - in time for the early morning connecting flights to other cities. I had 2.5 hours to get my bags, go through customs, immigration, rebook my bags to my domestic flight and then transfer to the American terminal. When Qantas was on time (which this was) this was just enough time to do everything that I needed to do. When Qantas was late once (by over 2.5 hours) I missed my connection entirely (almost everyone did). Even in Australia, Qantas provides very tight connections with marginal room for error (and their on-time performance is good but definitely not great! And when we were delayed, there was very little communication about the delays).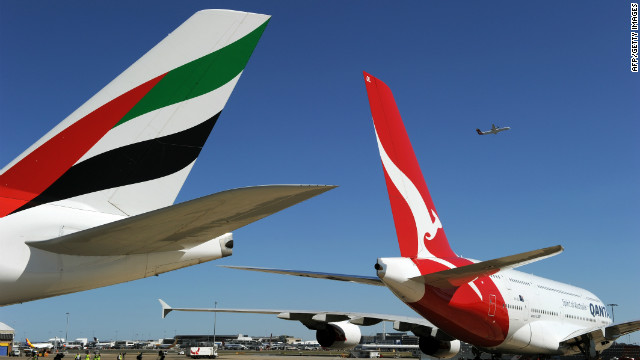 Overall:
Qantas is a very nice full-service airline but it is definitely showing its age in terms of its fleet. Qantas recently said that it is switching from the 747 to the A380 on the Dallas to Brisbane flight - which is a welcome change. Qantas would need to keep this innovation up to continue to be relevant - especially in the growing Asia Pacific market where other legacy carriers have the same full-service with modern aircraft competing against newer LCC's with modern aircraft. Qantas is a decent airline, but I am not sure I would go out of my way to choose it - but maybe with the partnership with Emirates, Qantas will retain its legacy status!